The Joseph Rowntree Foundation research into the minimum income standards for the UK.  The Minimum Income Standard for the UK shows how much money people need, so that they can buy things that members of the public think that everyone in the UK should be able to afford.
Figures are based on public views about a minimum standard that nobody should fall below.
It does not show you what you require to meet all your individual needs, and is not suitable for use as a personal budgeting tool.
By entering a few details about your circumstances you can compare your income with the MIS, and see how this is made up. For instance  my children are now all grown up and have left home, so I live with my wife. When I have entered details about my rent/mortgage. gas/electric/water bills etc it tells me the minimum income I require is £23,099. They break this down into how much I need for food, alcohol. council tax, clothing etc. It makes very interesting reading!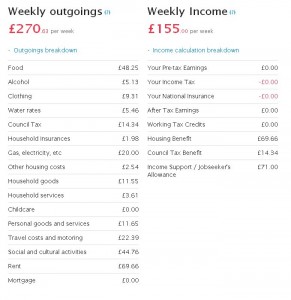 The picture shows the results for a single person.
Go to http://www.minimumincome.org.uk/ and enter your details to see what it suggests for your household.
Try this exercise to find out about a single persons minimum income. It will also help you to calculate percentages.